Technology and development
This is the really exciting, super-cool stuff. It is, of course, always delivered bug-free, on time and fully guaranteed for the whole of your life… or near offer.
Raising more
The journey to make the world a better place is one of a billion paces. It starts with one pace, or a few thousand lines of code. We use proven and scalable, accessible and secure technologies in order to prototype, build, deploy and manage supporter experiences. We have been learning how to scale and provision high-volume and high-availability systems since 2001. While tech has moved on, and some of us have become rather less haired, our aim is the same: build robust, resilient platforms and beautiful responsive applications which can welcome hundreds of thousands of people quickly and securely.
With Angular / CSS3 and html5 on the front-end; Go Lang, MongoDB, Postgres and MySQL on the back-end; AWS, Pantheon or Armour in the engine-room; Google Analysing almost everything and of course PCI DSS and DPA compliant processes, our fully campaign-tested tech can help you to raise more cash, learn new acronyms and meet new geeks. What's not to love about that?
BDD ASAFP
We're pretty sure we have wow'd you with our tech lingo bingo above. But wait – there's more. So much more. All the projects we deliver need to actually be useful for the supporters, humans and even members of IT teams who will engage with them. In order to consider what each of these lovely 'actors' need, in whatever context they may find themselves, we work using Behaviour Driven Development. It is far more scary than it sounds, and really, really involves a cucumber.
Rather than just building the fully complete briefs we always receive from clients, we hang out with them, meet their supporters and get to know their organisational objectives. Once we have discovered who needs to do what, where, when and how, and how many of them might all turn up at the same time, we can get busy defining our user stories. These lead on to acceptance and test criteria to make sure we deliver everything in the correct manner. At the end of the fully Agile awesomeness of delivery we reward ourselves and our clients with another BDD: a Big Damn Drink.
If that wasn't enough collaboration for a lifetime we also work with clients in a fully immersed manner. By embedding great HomeMade peeps right up inside their digital, tech, fundraising or marketing teams, we can add extra value to their projects. It also really helps with knowledge transfer, mentoring and super-fast delivery of complicated solutions.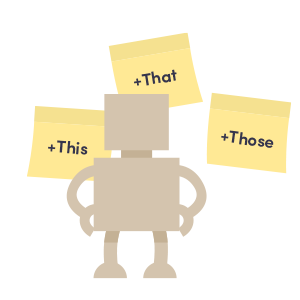 Glue and wet string
Sometimes one Excel spreadsheet, one CSV export, one defective nightmarish CRM platform, or one unsupported 2004 'vintage' enterprise CMS is not enough. We need to juggle a few of the little darlings and they all have to chat happily together. What's more they have to talk to the modern, handsome and well-adjusted, API-first, standards' driven tech we create.
Enter the Dragon. Sorry, enter the systems' integration crew. Shelley's inspiration for Victor Frankenstein, they are capable of crafting a loveable and hard-working sentient monster from any collection of half-baked legacy code and spare parts. We rely on their brilliance to glue systems together, make data sashay between said systems and create single supporter views across myriad services. They are our true heroes. They also know where the skeletons are buried, peel oranges with surgical precision / instruments, ride unicycle scooters and carry iPads everywhere…