How much ❤️ do you share with your supporters? Do they feel recognised? Are they connected to your mission and aware of their impact? Would they feel proud to recommend your work to friends and family? Or do they tend to be bunched together in a couple of huge segments, existing only as meaty 'ATMs' for you until they politely decline and opt out?
We regularly 'mystery shop' charities around the world. We support the work of many organisations, both as individuals and as a business. When we start a new relationship with a cause we take note of how that welcome is structured and how it makes us feel. After being part of an organisation's nurture plans for a while, we reflect on how those journeys have made us feel.
Newsflash – we keep finding ~80% of participant, donor or volunteer interactions are generic, poorly structured and actively off-putting. And this is despite affordable and accessible marketing automation or customer data platforms and the regular use of journey mapping or cross-team comms plans. The rising costs and complexity of acquisition means we should all be raising our retention game.
More respectful and engaging models
We work with clients on peer-to-peer events, individual giving and regular giving programs. When we connect around projects for individual and regular giving we immediately seek to better understand tools and technology, messaging and journeys. We often find clients arrive to us with a very transactional model of donor journeys. Strangely, if we highlight difficulties with such a transactional model, we have never found a member of a client team who feels they would react well to such a journey themselves.
The causes for this situation are many and varied: limitations in cross-team capacity hamper proper planning; a lack of tools (to plan, action or track activities); concerns about scalability; and issues with access to data or accurate capture of marketing preferences. For some clients there is a strong desire to keep doing what has always been done. Often justified since it makes "it easier for us to forecast levels of attrition". Some clients even lack the confidence that a revised approach to stewardship would deliver enough return to justify doing it.
We're regularly inspired by the passion of our clients' supporters and the effort they put into their fundraising for the causes in which they believe. But are you equally passionate about delivering the donor stewardship journeys they deserve?
Even though some versions of optimised nurture and retention comms can be remarkably complex and challenging to plan as well as operate, there are a number of simple ways to make an immediate difference. When operating these models with clients we have reduced attrition while increasing both frequency and value of gifts.
The baseline!
We touched on this earlier, but to lay it out in simple terms: add a layer of love and recognition into your comms – through personalisation and customisation rather than sharing generic asks and unrelated declarations of need.
5 relatively easy foundations to enhance donor appreciation, consideration and longevity:
Personalise communications to your supporter – including the use of personalised URLs and QR codes in emails, DM and SMS
Personalise communications from your organisation – no more generic sends, and no more "noreply" senders
Personalise the assets you send to your supporters – booklets, downloadable PDFs, appeals and even merch or rewards
Customise your communications – reference recent gifts, areas of declared interest or the impact of restricted funds they have contributed towards
Optimise your communications – time and day of sending, choice of primary channel and gift asks based upon prior interactions
Level up for the more advanced player
Assuming you have aced the foundations, you should now be adding love, personalisation and customisation to all your donor comms. Once this is bedded in and you are operating it well, it's time to level up.
This means transforming the common three-stage cash gift process (receipt + generic comms + next appeal) into a more effective multi-stage "flywheel of fantastic fundraising."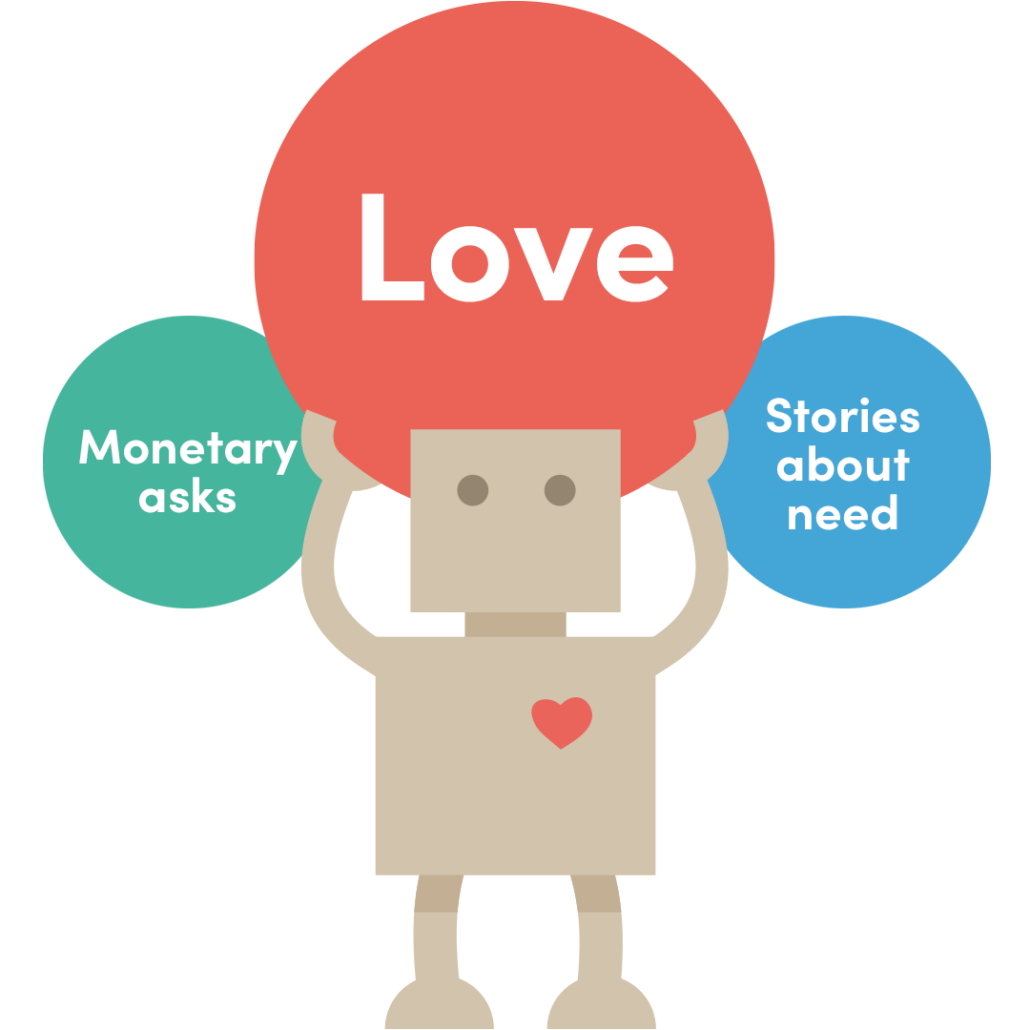 There are a few key things to start doing in order to switch things up!
Collect and action preferences – ask questions, ask for comments and advice and check how you are doing, with options to change cadence, content, channel or context as requested by a supporter)
Vary the emphasis of your communications based on recent activity, world events and the donor's point on the flywheel journey
Plan and execute multiple journeys in the same comms platform(s)
Operate modern, enterprise collaboration, content management and digital experience tools
Operate a modern approach to data management, led by the overlap of organisational need and donor need, rather than purely led by the database's foibles and capabilities
Ideally integrate all channels of your digital / integrated journeys and track effectiveness from channel to channel
Become forensic and eager when consulting and analysing data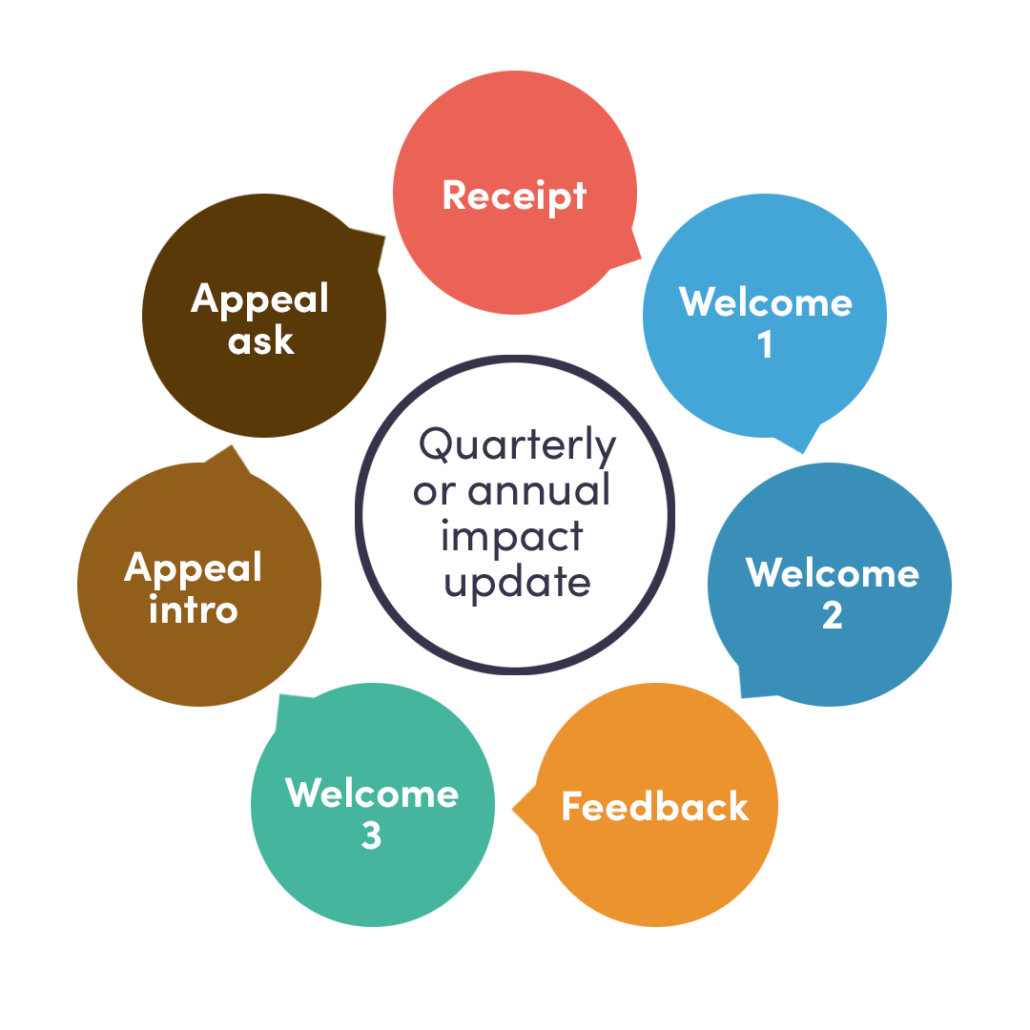 Build your comms into a flywheel that helps to bring back on-off donors, recognises the value of regular sustained donors and carefully cross-sells non-cash ask actions. Once you set up this revised model you will see changes to your retention and lifetime donor value. You will also often start to see changes to engagement on social and attendance of community events too. Driven by greater levels of donor appreciation and greater awareness of your mutual impact.
It's not just donors who can benefit from your new approach
We've worked with clients for over ten years to develop marketing-automation-driven onboarding journeys for challenge / peer-to-peer events. These journeys help us to regularly achieve fundraising activation rates of over 70%.
So far in 2022 we have seen changes to the response rates and engagement of participants. So we set about pushing our journeys further with new concurrent stewardship communications that focus on impact and beneficiary stories. These journeys also include a personalised dashboard which carries fundraising, activity and reward progress.
By 'gamifying' participation and highlighting the rewards of activity, we have been able to help leverage latent intent while also nudging our 'good' fundraisers to become 'great' fundraisers.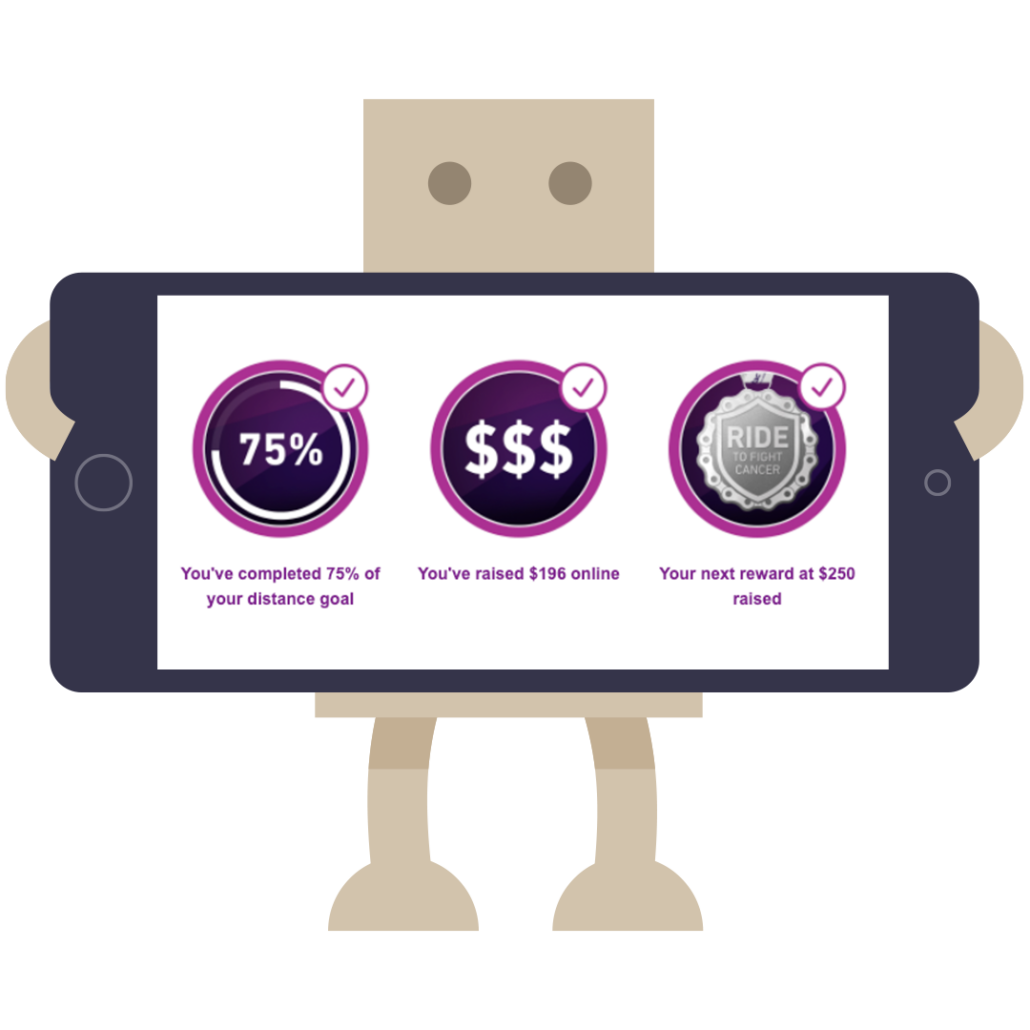 With insight, competitiveness and data triggering a desire to do more, it was a natural extension to enable speedy action through 'one-click activation icons'. These 'best next steps' are customised based upon the situation of each participant.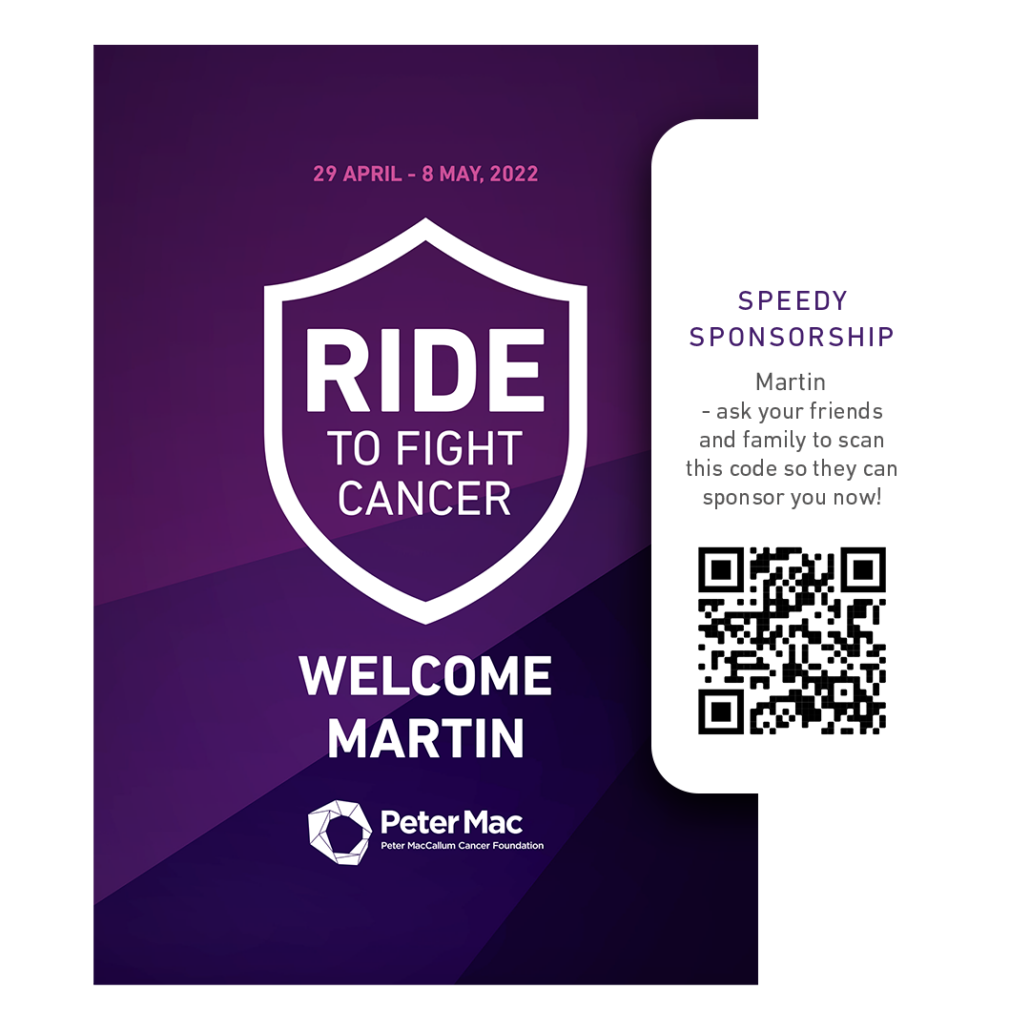 Sitting in our email comms, they have helped to achieve a further unexpected win too: like virtual badges on fundraising pages, people have been screen-grabbing their progress stats and sharing them across social. Thus, the assets not only inspire participants to act, and provide a route to do so, they also inspire friends and family to get involved.
These gamifyed email elements join our personalised full-colour printed welcome booklets and a refresh of our 2021 personalised QR code key tags (linked directly to a participant's personal fundraising page).
Some bonus thoughts to reward the long read…
Here are a further 3 brilliant tips to bring more ❤️ to your supporter journeys today:
Remember the phone! A well-executed welcome call to new mid-level donors and fundraisers can lift activation by 10-20%, raise average fundraising totals by 40% and improve donor appreciation significantly.
Remember your supporters in between appeals and events! Keep blogs, stewardship e-newsletters, landing pages and event websites going in between events. Adding a lead capture form, blog and monthly e-newsletter generated 100 fresh leads a month for one of our clients, while keeping their digital remarketing audience active for the next campaign.
Remember your supporters are humans, just like you!* If you look at your plan, comms and content and feel a huge wave of 'meh' crash over you, stop. Why would you expect these things to elicit a different response from your supporters? Only share materials and stories that delight you; you'll stand a much better chance of delighting your supporters.
* They might actually be robots, but Elon is going to sort all of that out for us. Guaranteed.
Need help with your stewardship plan? Get in touch!
We'd love to help design a memorable, respectful and effective set of journeys that will keep your supporters actively involved in your mission year after year.